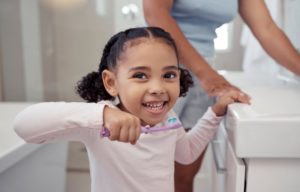 Like feeding themselves, walking, and potty training, your child has many skills to learn to become more independent. While other skills can wait until they get older, such as how to drive, brushing and flossing their teeth are essential to develop early on in life to protect their growing smile every day and give them confidence.
But for many kids, it can be struggle to get them to brush for a full two minutes. How can you make dental care a fun task, instead of a fight? Keep reading and try these tips from a pediatric dentist!
Let Your Child Choose
When a child has a say in the matter, they feel more ownership and more responsibility. How can you give them a choice when it comes to dental care? Take your child with you to the store and allow them to select their toothbrush and toothpaste. On the shelves, you should find many fun characters and colors. With their chosen toothbrush and toothpaste, they may be more willing or even excited about using these products.
Set Up a Reward System
Providing the right incentive can motivate your child to brush and floss every day. You could make a sticker chart where they keep track of their healthy habits. Once they meet a certain goal, you can give them a small reward. (Preferably not something sugary!)
Play Music or Videos
To a child, two minutes can seem like a long time, but it doesn't have to be silent during these stretches in the morning and evening. Liven it up by playing songs your child enjoys! Just make sure they aren't distracted from actually brushing. They can dance by moving their toothbrush around and make these two minutes happy and productive at the same time.
Use Fun Apps
If playing music doesn't help, you can consider downloading dental health apps with games and activities for kids. Disney, Colgate, and other brands have apps specifically designed to help kids clean away nasty "bugs" or "bad guys" from their teeth. Your child thinks they are just having fun, but they are also being healthy!
Do It Together
Especially when they are young, kids want to do what their parents do. You have the opportunity to show them how to brush and floss properly. Plus, it can be a fun activity to do as a family as part of the morning and nightly routine.
Ultimately, if you want your little one to grow up to have a strong smile, you need to put in the work now to establish these habits. For now, make it fun for them and for yourself so everyone has a positive experience.
About the Author
As a Diplomate with the American Board of Pediatric Dentists, Dr. Natalie Gardner is uniquely qualified to work with toddlers, children, and teens concerning their oral health. She required intensive dental work as a child and has the necessary skills to perform advanced care, but in her practice at Upper Dublin Pediatric Dentistry, she prefers to help her patients avoid tooth decay and other problems. If you would like to schedule an appointment with Dr. Gardner, you can call the Fort Washington office at 267-481-7707 or visit our website.