Kid's Dental Checkups & Teeth Cleanings – Fort Washington, PA
Gentle, Comfortable Dental Care for Your Child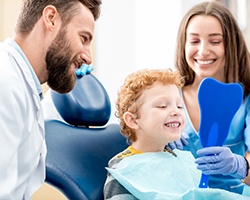 Routine dental checkups and teeth cleanings aren't just important for adults, they are crucial for growing smiles too! Dr. Gardner and the rest of our top-rated team at Upper Dublin Pediatric Dentistry take pride in offering a wide range of pediatric dental services at our conveniently located dental office in Fort Washington, including essential preventive dentistry. If you would like to learn more about why these semi-annual visits are recommended as well as what your child can expect during their dental checkup and teeth cleaning in Fort Washington, then keep reading!
Why Choose Upper Dublin Pediatric Dentistry for Dental Checkups and Teeth Cleanings?
Board-Certified Pediatric Dentist
Top-Rated Pediatric Dental Office in Fort Washington
Dental Insurance Welcome
Why Are Regular Dental Checkups & Teeth Cleanings Important?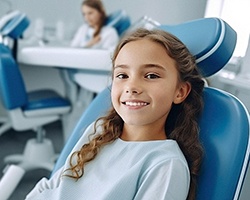 The American Dental Association recommends bringing your child in for a dental checkup and teeth cleaning every six months to ensure their teeth stay healthy and that their smile stays beautiful. That's because good oral health is very important to the well-being of their entire body! While routine brushing and flossing at home are necessary to keep their smile looking its best, visiting our board-certified pediatric dentist for a comprehensive dental exam and teeth cleaning is essential as well. That way, we can help:
Prevent tooth decay and gum disease
Avoid costly and extensive dental procedures
Reduce staining from food and drinks
Have a smile that will last a lifetime
What to Expect During a Dental Checkup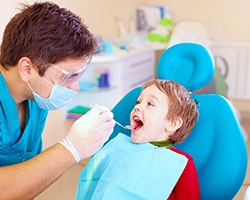 After welcoming your child into our pediatric dental office and getting to know them a bit better (or catching up from their last appointment), Dr. Gardner will thoroughly examine their teeth and gums for signs of tooth decay, gum disease, and other oral health problems. If necessary, we may also want to take X-rays to see what is happening beneath the surface of the teeth and gums. That way, we can find dental issues not visible to the naked eye, like impacted teeth.
What to Expect During a Teeth Cleaning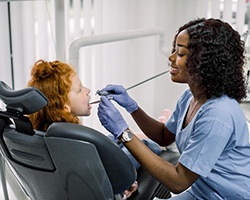 The next portion of their appointment is the dental cleaning. One of our gentle and compassionate dental hygienists will carefully clean your child's teeth with a variety of tools to remove any hard mineral buildup (tartar) from the teeth. Then, they will floss your child's teeth, use a polishing compound, and apply fluoride.
If our team finds tooth decay or gum disease, we will talk to you about changing your child's brushing or flossing habits. In severe cases, they may recommend antibiotics or other dental treatments. If your child's teeth and gums appear to be healthy, the dentist will probably recommend that your child continue their brushing and flossing routine as usual.